Welcome!
Bullseye Custom offers imprinted promotional products, specialties, and and apparel for your business, event, or tradeshow giveaways.
We have solutions that fit every budget and need!

Why settle for ordinary? Bullseye Custom offers the Best Service, Selection & Pricing!
Your satisfaction is our highest priority!
Featured Item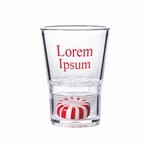 2 Oz. Flav-A-Shot™ Infusion Acrylic Sh...
Infusion acrylic shot glass two piece 2 Oz. acrylic shot glass. Place an edible condiment (such as candy, fruit, gum, licorice, chocolate, etc.) into the removable bottle compartment of the unit. Reas...
$2.70 - $3.42